Calendar of Events
-All events are held inside the function room. Cafe side remains open unless otherwise stated.
-To book your own event, click here

Filipino Freethinkers Women's Month Meetup, Sun, Mar. 10, 2019
March 10, 2019 @ 3:00 pm

-

6:00 pm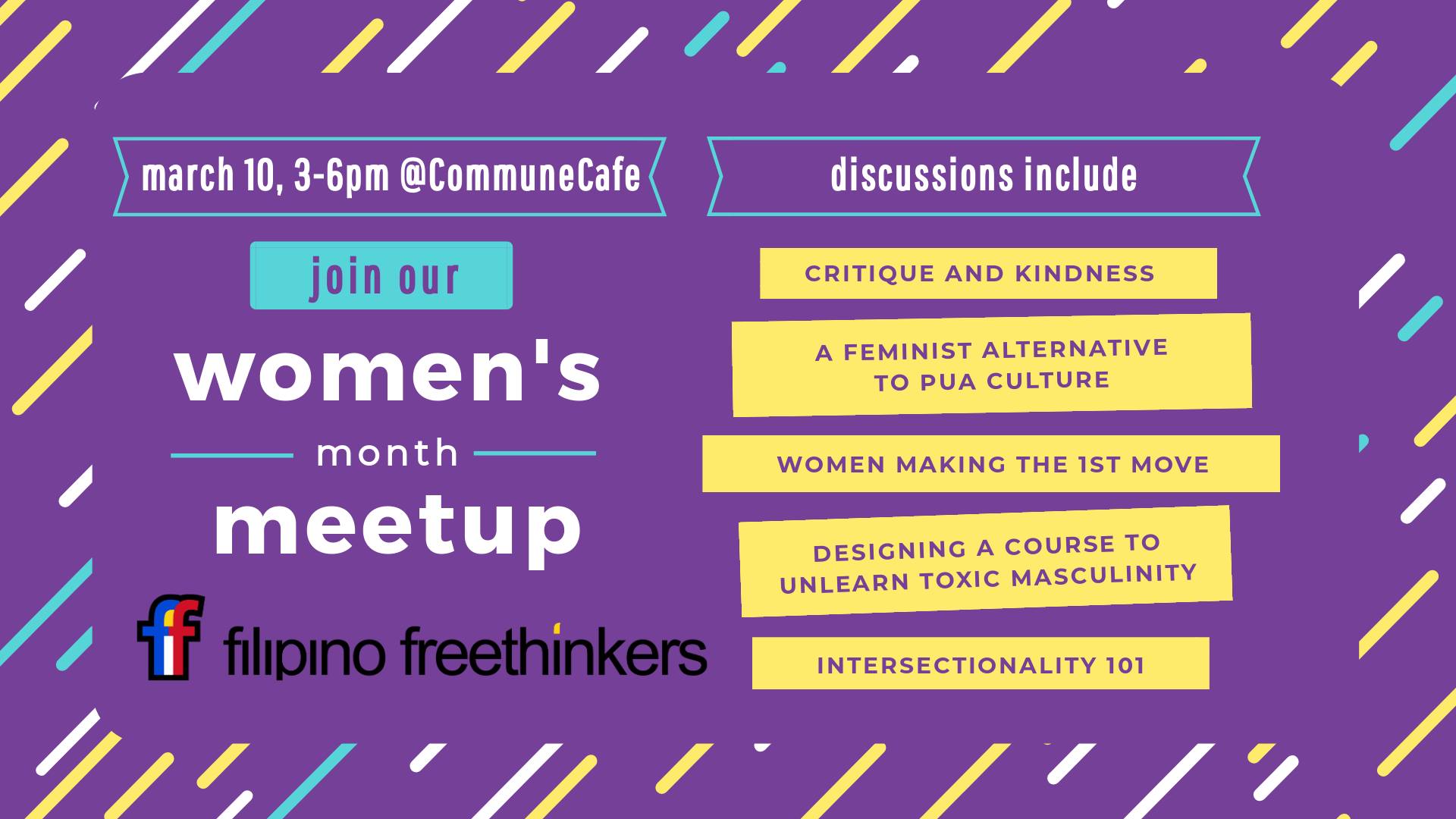 Join our Women's Month meetup!
(Men are welcome, too)
Venue: 2nd Floor Commune Makati
36 Polaris St. Brgy. Poblacion, Makati City
Directions link: https://www.commune.ph/commute-to-commune/
PWD Friendly? Not really
Date: Sunday Mar. 10, 2019
Time: 3:00 PM to 6:00 PM
*Critique and Kindness: Lang Leav, artistic elitism vs. populism (a conversation with Katrina Stuart Santiago)
*One PUA page is making a comeback. Let's discuss why that's a problem as well as feminist alternatives to toxic PUA culture.
*Let's talk about women making the first move (professionally, romantically, sexually, etc.)
*What would a sexist/misogynist rehab course look like? Let's discuss a draft course design.
*What is intersectionality and why is it important for humanity in general and feminism in particular?
Raunchy Topic of the Week
After the meetup we usually go for dinner and drinks somewhere nearby. If you're not a meetup regular and can't make it for the meetup but would like to go for the post meetup, please indicate on a post in the wall or comment so we can contact you.
Got questions about the meetup? Contact us at 0928 872 0020 / 0920 975 0092
* Newbies are welcome, and admission to the meetup is free. (Note: this does not apply to the food and other activities we may be having)
* Early birds get to play board/video/party games with the group.
* Look for the FF sign (or the group of smart, sexy people).
* There is no required age, religion, philosophy, or IQ level.
* Discussions are informal yet intelligent (most of the time).
* You don't have to talk; you can just sit in and listen.